ECLISSE Pocket Door Frame Kits From Only $319.99
Free Shipping to Mainland US & Canada on All Classic Kits Under 96″
ECLISSE Pocket Doors are ideal to maximize small spaces, without taking up floor or wall space. Manufactured in Italy with a 12 year warranty, they are extremely easy to assemble and are highly durable.

Fast & Free Shipping
to mainland US & Canada

12-Year Guarantee
on our products

Made In Italy
with high quality materials
Why should you choose us?

High Quality Products
Our products are made in Italy to the highest standards

Wide Range Of Products
We pride ourselves on offering a wide range of options.

Excellent Customer Service
We offer unparalleled customer service with dedicated representatives and product specialists

Consistent Delivery
When we tell you we'll deliver it quickly, you can rely on that.
More about Pocket Door Frames
If you're in the market for a pocket door frame kit, you've come to the right place. Pocket Door Superstore are experts in all things pocket door. We have a wide offering of pocket doors for you to choose from, covering a range of door sizes suitable for a variety of room types, wall structure thickness & supporting hardware.
Pocket door sizes
Our pocket door frames are able to support a variety of door types up to 220lbs max in weight, including glass and sound proof doors. We also offer pocket doors that support a range of single door sizes, from 24″ x 80″ doors all they way up to 48″ x 96″ doors. Our kits also support single or double pocket doors depending on the amount of space you have available that you'd like to open up.
Pocket door hardware
There are a lot of additional hardware options available to improve the functionality of your pocket door and to make it work for your building or home. Everything from soft closers and self closers to door co-ordinators and push-pull openers are designed to integrate with your pocket door frame, to maximise its potential.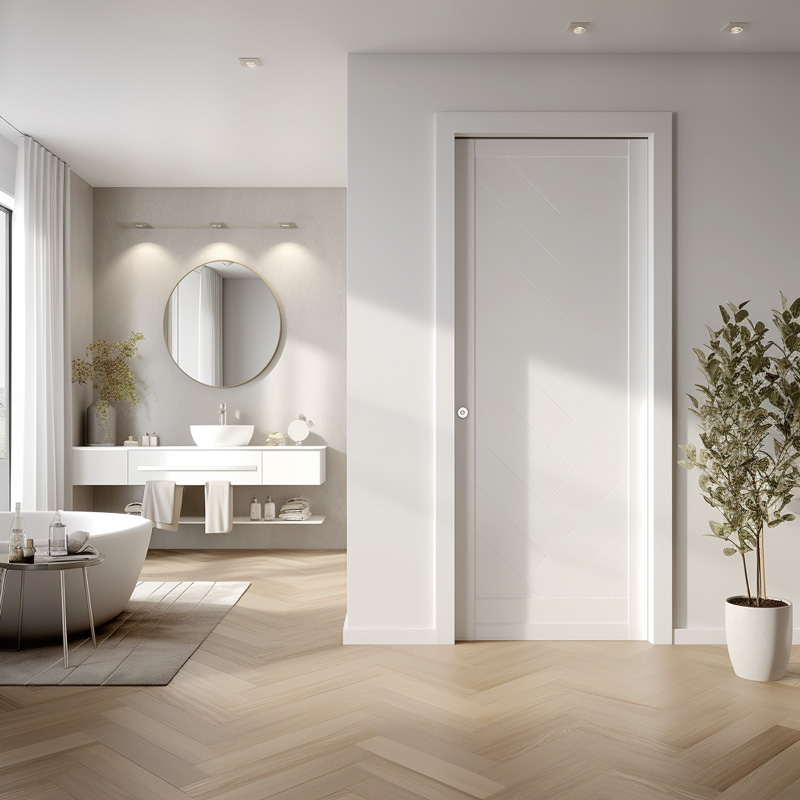 Pocket door delivery
We offer free shipping on all orders across the mainland United States & Canada, so if you're after a pocket door frame quickly we can ship it out to you in within a week wherever you are. If you are ordering our pocket door frames in bulk then please get in touch and we can identify the best and most economical shipping option for you.
Pocket door installation
If you'd like to find out more about how to install our pocket door frames, we have installation guides available. As well as this, we have phone support if you need further guidance or have any questions on which pocket door frame kit is right for you & your use type. For instance, if you want to find out if the pocket door frame kit is suitable for self tapping drywall and if it uses steel split studs.