When it comes to home improvement projects, installing a pocket door can be a great way to save space and add a touch of modern elegance to your home. Pocket doors are known for their space-saving capabilities and sleek design, making them a popular choice among homeowners. However, before diving into this project, it's essential to understand the costs associated with pocket door installation. In this blog post, we will break down the factors that influence the cost of installing a pocket door, helping you make an informed decision for your home improvement project.

Factors Affecting Pocket Door Installation Costs
Type of Pocket Door: Pocket doors come in various materials, styles, and designs. The type of pocket door you choose will significantly impact the overall cost. Basic pocket doors made of wood or composite materials tend to be more budget-friendly compared to premium options such as glass pocket doors or custom-designed pocket doors.

Door Size: The size of the pocket door plays a crucial role in determining the installation cost. Larger doors, such as bespoke size pocket doors or double pocket doors may require more extensive hardware and labor, which can increase the overall expenses.

Wall Structure: The condition of your walls and their structural integrity will affect the pocket door installation cost. If your walls need modifications, reinforcement, or resizing to accommodate a pocket door, this can add to the expenses.

Location of Installation: The location within your home where you plan to install the pocket door matters. Installing a pocket door in a load-bearing wall or a complex structural area may require additional work and expertise, increasing the installation cost.

Labor Costs: Labor costs can vary based on your location and the expertise of the contractor you hire. You may decide to install pocket doors yourself (if so you can view our gallery of videos on pocket door installation) or you may decide to invest in highly skilled contractors who might charge more for their services, but their experience can ensure a smoother installation process.

Finish and Hardware: The finish and hardware you choose for your pocket door can also influence the cost. If you want your pocket door to function with all the bells & whistles such as a soft closer or co-ordination kit if you're installing a double pocket door, then this will increase the cost, but it may improve the overall experience of having a pocket door if it functions just as you want it to.

Permit and Inspection Fees: Depending on local building codes and regulations, you may need permits and inspections for your pocket door installation. These fees should be factored into your budget.

Average Pocket Door Installation Cost
The cost of installing a pocket door can vary significantly, but on average, you can expect to pay between $500 and $2,500. This cost includes materials, labor, and any necessary permits. Here's a breakdown of the typical costs:
Materials: $100 – $1,500 (varies based on door type and finish)
Labor: $300 – $1,000 (depends on complexity)
Hardware: $50 – $250ca
Permits and Inspection: $50 – $200

It's important to obtain multiple quotes from reputable contractors in your area to get a more accurate estimate for your specific project.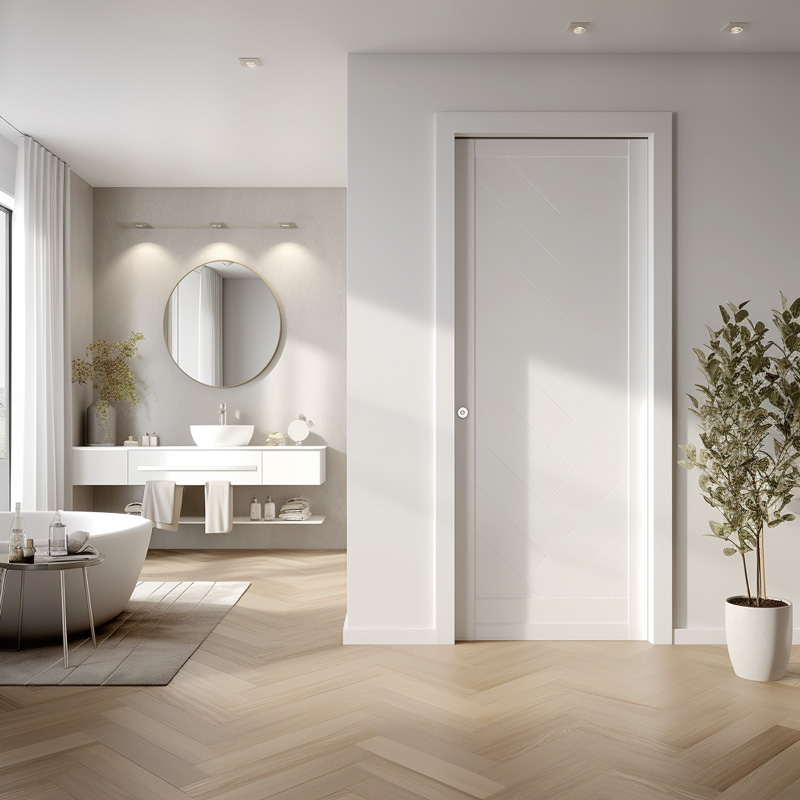 Pocket Door Cost Considerations
Installing a pocket door can be an excellent investment in your home's functionality and aesthetics. While the cost of installation may vary, understanding the factors that influence the price can help you plan your budget effectively. Remember to prioritize the quality of materials and workmanship, as a well-installed pocket door can bring years of convenience and style to your home.
If you're ready to explore pocket door options and get a quote for your project, don't hesitate to reach out to our team at Pocket Door Superstore. Our expertise in pocket door solutions may help you find the perfect fit for your home while staying within your budget. Don't hesitate to take the first step towards a more functional and stylish living space with a beautifully installed pocket door.